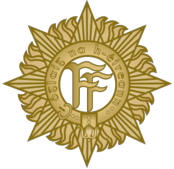 Outstanding news for the Irish Defence Forces. From August of next year until July 2008 Ireland will take control of the peace keeping mission in Kosovo! They will be responsible for the "co-ordination of the Nato-led international task force in the Balkan state, commanding, controlling and directing operations". While Irish Officers have served as Force Commander on UN missions; such as Lt Gen W. Callaghan on UNIFIL or Lt General David Stapleton on UNDOF, Major General John Vize on UNIKOM, this will be the the first time that Ireland will be in overall command of the multinational task force.
Excellent news for our Defence Forces and a testament to the magnificent contribution our soldiers have made to peacekeeping operations since joining the United Nations in December 1955.
Since 1958 our soldiers have had a continuous presence on peacekeeping missions either as observers or peacekeepers serving over 50,000 individual missions on UN operations in numerous hot spots throughout the globe.
Our first mission was to the Lebanon in 1958 as observers (UNOGIL) and since then our troops have served with distinction in the Lebanon with Unifil [a small group still serve there today], The Congo (ONUC), West New Guinea (UNTEA), Cyprus (UNFICYP), India-Pakistan (multiple missions), The Sinai (UNEF II), Afghanistan, the Iran/Iraq border (UNIIMOG), Namibia (UNTAG), El Salvador (ONUSAL), Angola, Cambodia, Yugoslavia, Somalia (UNOSOM II), Haiti (UNMIH), Macedonia (UNPREDEP), East Timor (UNAMET +), Kosovo (UNMIK +), Ethiopia & Eritrea (UNMEE), Liberia (UNMIL), Bosnia, Croatia, Albania, Russia, South Africa, Rwanda, Honduras and many other cases you never hear about including the Irish troops seconded to various NGOs for missions in Somalia, Angola, Rwanda and Zaire.
And if you have been watching the papers recently you'd know that Irish Troops are likely to be deployed once again to the Lebanon in partnership with the Finns on what could be a difficult peacekeeping operation. In 1998 Ireland underlined our committment to UN peacekeeping operations by committing 850 Defence Forces personnel to UN peacekeeping under the UN Standby Arrangements System so it's great to see Ireland not shying away from sending her troops into difficult situations such as exists in Lebanon today.
Ireland has a strong tradition with the United Nations, we are respected throughout the world for the work our troops have done on UN missions and it's a fantastic honour for us to be given the responsibility for operations in Kosovo. It's something we should all be proud of.
Some light reading: The United Nations Mission in Kosovo (UNMIK).
p.s. It's worthwhile remembering also the contribution of An Garda Síochána to peacekeeping operations, they have been serving with the UN since 1989.