The Gaelic Athletic Association
The Gaelic Athletic Association (GAA), or Cumann Lúthchleas Gael in Irish, is the governing body for Gaelic games in Ireland.
The Gaelic Athletic Association (G.A.A.) was founded in November 1884, as a means to keep alive and promote Iris games, Irish culture and tradition. Three men must take most of the credit for the foundation of the Association, Michael Cusack, Maurice Davin and Archbishop Croke. Dr. Croke, Archbishop of Cashel was the first Patron of the GAA and it is him who Croke Park is named after.
Until the late 1800's the Irish language and traditions were being steadily eroded by emigration, desperate poverty and outside influences.
The first meeting of the GAA was in a town called Thurles in November 1884. Within six months of that first meeting, clubs began to spring up all over Ireland and people began to play the games of Hurling and Gaelic Football and take part in Athletic events with pride. In 1925 the G.A.A. handed over the organisation of Athletics to a separate organisation.
The present-day G.A.A. is a multi-million pound business with over 200,000 players in approximatly 2,500 clubs in Ireland and many more clubs in many other countries around the world. The playing of Gaelic Games is based on a club system, and each of the 32 counties in Ireland have their own club competitions, culminating in county winners in the championships and leagues. Clubs outside of Ireland have their own league and championship competitions with the format dictated by the number of players and clubs available.
Croke Park
The headquarters of the GAA is Croke Park in Dublin (shown below). Croke Park is a state of the art stadium and holds the finlas of the national leagues and championships for the Gaelic sports of football, hurling and camogie. The stadium also hosts the national club finals. On Final Day the stadium is full to capacity holding almost 80,000 people.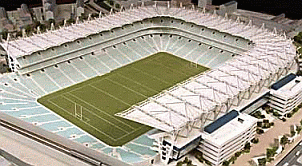 Click here for a basic plan view of Croke Park.
For more information about the GAA you should visit: www.gaa.ie